"Young Hearts on Fire with the Love of Christ"
——————————————————————-
This form is required to be turned in one time and kept on file each school year for on-site events at St. Veronica and for virtual events on Zoom. 
This form is required for every off-site activity.
This form is required once a year and applies to the whole school year.
Calendars
Sept through Nov Calendar Fall 2021 22
Youth Service Hour Opportunities Fall 2021
Looking for service opportunities?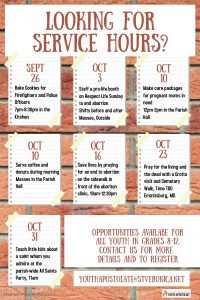 2021 Drop-in Service Hours: Sundays, 12pm-2pm, 8th-12th Grade
October 10th, November 14th, November 21st
Drop-in Service Hours Details: Youth in grades 8-12 can earn service hours for school, clubs, or Confirmation preparation by participating in these monthly events on Sundays from 12pm-2pm in the Parish Hall/ Kitchen. Parents please contact us via email by 9pm on the Friday before to RSVP. We need a current Photo/Medical Form and Covid Agreement on file. These forms can be downloaded from the parish website and submitted to the Parish office. Dates for drop- in Service Hours through December are above. We will continue to offer this through April and an updated calendar will be available in November. Drop in service opportunities are at least one Sunday a month, sometimes two Sundays a month. Activities include supporting local homeless shelters, pregnancy centers, food pantries, senior centers, nursing homes, children's hospitals, and more! Project details available the week before the event. There's no cost to participate but we will ask for donated items. Parents are strongly encouraged to sign up for our email distribution list to get the most up to date information.  
———————————————————————————————