"Young Hearts on Fire with the Love of Christ"
Email: youthapostolate@stveronica.net
---
We're Still Here for Your Family in the Midst of COVID-19!
Contacting us During COVID-19 Telework:
Please feel free to contact Erin Johnson, the Director of Youth Ministry at youthapostolate@stveronica.net.
——————————————————————-
To receive the Zoom conference call link or password for any of our online youth ministry meetings, email us at youthapostolate@stveronica.net.
How do I find out more information about youth ministry at St. Veronica? 
We send out regular email updates. If you would like to be on our distribution list, please let us know. We are also posting up to date information here on our web page. If you have not connected with us before but are interested in being a part of our virtual youth ministry now, please join us!
Are youth activities cancelled during the COVID-19 situation?
At this point in time, all in-person youth activities have been cancelled until further notice. However, we are so excited to share that we are still holding many gatherings online! We invite all youth in grades 6-12 to join us! We are using ZOOM video conferencing as our platform and do so with the permission of Fr. Kleinmann and within the safe environment guidelines of the Arlington Diocese. Zoom can be used on a computer, laptop, tablet, phone, or other smart device. Below is our current schedule of events which we plan to update regularly. Contact us at the email address above if you have any questions about how to join our Zoom ministry meetings. You will need to contact us to receive the meeting link and password. 
UPDATED SCHEDULE: April 24-May 1
Tomorrow: Friday, April 24th: 7:30pm
IGNITE Middle School Ministry– All youth in grades 6-8 are invited to join us for an evening of games, prayer, faith formation, and more! Bring your own pizza! Pull up a chair and log in for a fun Friday night opportunity! 
Sunday, April 26th: 1:30pm 
FAMILY ROSARY- All families of youth in grades 6-12 are invited to join us over Zoom to pray the Rosary. Contact us to volunteer to lead one of the decades! 
Sunday, April 26th: 6:00pm 
High School Work Camp Catch- up– Our Work Camp community will gather over Zoom for planning updates and fellowship. 
Monday, April 27: 12:30pm 
Middle School Devotional– Please note the new time! Based upon parental request, we will holding this devotional on Zoom on Monday and Friday at 12:30pm. All youth in grades 6-8 are invited to join us! 
Monday, April 27th: 5:00pm 
High School Boys' Discipleship Group– All boys in rising 9th grade through graduating seniors are invited to join Fr. Dyer once a week on Mondays at 5:00pm on Zoom for fraternity, faith formation, and more! 
Monday, April 27th: 7:00pm 
FAMILY Game Night– Ready for some fun??? All families of youth in grades 6-12 are invited to pull up a chair and enjoy some hilarious and challenging games together! 
Wednesday, April 29th: 5:00pm 
Mother/Daughter Bible Study– All rising 6th grade through 8th grade girls and their moms are welcome! Contact us to find out how to order the book from Walking with Purpose. Our 6 week study will run April  29th to June 3rd. 
Friday, May 1st: 12:30pm 
Middle School Devotional– Please note the new time! Based upon parental request, we will holding this devotional on Zoom on Monday and Friday at 12:30pm. All youth in grades 6-8 are invited! 
Friday, May 1st: 7:30pm 
IGNITE Middle School Ministry– All youth in grades 6-8 are invited to join us for an evening of games, prayer, faith formation, and more! Bring your own pizza! Pull up a chair and log in for a fun Friday night opportunity! 
——————————————————————————————————————–
10 Tips for Youth Staying Home During the COVID-19 Situation
Create a Schedule– Without school, work, sports, and other activities to attend, our days at home can easily be filled with mindless entertainment and distraction. Make a plan. Discuss with your parents and your family what you would like to accomplish during this time. Set a schedule that includes a time to pray, a time to study, a time to do chores, and a time to play. Stick to the schedule! You'll be happy you did.

Get Dressed for the Day- Don't fall for the temptation to stay in your pajamas all day. While that may be fun for the first couple of days, it will likely get really boring and be an obstacle to getting school work done at home. Act as if each week day is a regular school day. Take a shower, get dressed, even put on your watch and shoes! You'll feel more motivated to get your school work done and relaxing in your pajamas in the evenings and on the weekend days will be a welcome change!

Eat Healthy Meals– Don't fill up on junk food and empty snacks. Set some meal and snack times. Help your parents in the kitchen. Cooking at home and eating healthy is always important but is especially important now.

Get Some Exercise– Go outside and take a walk or a run. Play sports with people in your household. Workout to an online exercise video. Set a time for exercise every day. Physical activity is super important for your physical and mental health!

Set a Bed Time– Don't give in to the temptation to stay up really late watching videos or playing games. Go to bed on time on school nights and enjoy a different schedule on the weekends.

Include Regular Prayer and Spiritual Reading-This is so important! Our relationship with God is key and He wants to be with us in the midst of these uncertain times. Often folks say they don't have time to pray or that they don't know how to pray. Set aside time every day, right from the start of this time at home, and pray. There are many resources online and lots of good spiritual books to help!

Keep the House Clean and Organized–With everyone in the family at home, the house is likely to get messy every day. Stay on top of this and be a real help to your parents. Do the dishes, keep your room tidy and help with laundry. Keeping your home environment organized and clean will help everyone to be more relaxed and comfortable. A messy room is known to cause anxiety that can be easily avoided by remaining on top of the clutter!

Practice Online and Technology Safety- Be sure that you ask permission from your parents for anything that you want to do online or through social media. More people will be online during these days including people who do not have good intentions. If something doesn't seem right, stay away from it. Always be open and honest with your parents about your activities online.
Take Time Away from Screens

– Make time for silence. Enjoy nature. Help your family with yard work or spring cleaning. Do something fun with your parents and siblings away from screens. Your brain will thank you.

Enjoy this Time with Your Family

–

Be cheerful and have fun with your family! Use this opportunity to deepen your bonds with your siblings and parents. This time together is a real blessing!
Additional Online Resources for Prayer: 
Live Divine Mercy Chaplet (Steve Angrisano) Daily at 3pm
https://www.facebook.com/steveangrisanomusic/
Live Stream of Silent Eucharistic Adoration
https://www.youtube.com/watch?v=XMBusENP19M&feature=youtu.be
Free Magnificat- Online Daily Readings
https://us.magnificat.net/free
Welcome! We are delighted that you have stumbled upon our Youth Apostolate page! Please know that our team prays regularly for the youth of our parish and their families. You're always welcome to let us know about specific prayer requests!
PHOTO AND MEDICAL RELEASE FORM: If you have not signed a NEW photo and medical form for the 2019-2020 school year, we must have this form before a teen can participate in onsite events. Download the form here and return it to the parish office or Catacombs.
Check out our promo video for more information about our ministry!
Planning to join us for an activity off site? Please be sure to complete the form below:
Basic Liability Form: Event Permission Slip 20192020
Please note that this form must be turned in as a hard copy to the parish office.

Have you ever wondered what we do with all of those permission slips?
Check out this document for more information. do you know permission slip information
Here's our latest calendar. Always feel free to contact us if you have any questions:
Printable Calendars of Events:
February to April Calendar 2020 Youth Apostolate Final

J

OIN US O

NLINE FOR IGNITE MINISTRY DURING COVID-19 
"Were not our hearts burning within us while He spoke to us on the way?"- Luke 24:32 
IGNITE seeks to accompany young people in grades 6-8 on their journey of faith, pointing out the loving works and very near presence of the Lord in their day to day life.

IGNITE gathers on Friday evenings (EXCEPT ON FIRST FRIDAYS) from 7:30pm-9pm in the parish hall. All students in grades 6-8 are encouraged to attend. The evenings include food, music, games, prayer, and learning. This year we will also be going to BASH a diocesan rally for youth in Middle School as well as having day retreats, service opportunites, picnics, sports, and more!
RECEIVE THE MOST UP TO DATE SCHEDULING INFORMATION IN YOUR INBOX WEEKLY BY SUBSCRIBING TO OUR EMAIL LIST AT youthapostolate@stveronica.net
SEE OUR INFORMATION AT THE TOP OF THE WEB PAGE FOR JOINING US ONLINE DURING THE COVID-19 SITUATION 
SERVE 2020- A Junior High Work Camp for rising 7th-9th grade students. July 5-8, 2020. Read more in the registration packet and contact us with questions. Registration is open NOW through June 1st but fills up quickly. Sign up today! Serve Registration Final Packet St. Veronica 2020
Board Game Nights- All youth in grades 6-12 are invited to join us once a month on the 3rd Mondays from 7pm-8:30pm for a fun study break and evening of board games in the JPII Modular. 
LifeGuards– Courageous youth in grades 8-12 are sought to defend the sacredness of all human life. LifeGuards gather twice a month, once to learn about the Church's teachings on some of the most relevant and important pro-life topics of the day and another occasion to peacefully stand in prayer outside of a local abortion facility. Contact us today for more information! 
Here are the answers to some FAQs:
1. Do you have to be a St. Veronica parishioner to participate in Youth Apostolate activities? NO. Any young person in grades 6-12 is encouraged to attend. So please spread the word! Youth are welcome to invite their friends! 
2. Do you have to be Catholic to participate in Youth Apostolate activities? NO. Any young person can attend! We welcome youth of all faiths and those without a faith background. 
3. Do you have to sign up to come every week? NO. We have many different groupings, trips, retreats, work camps, and service project options. Youth should be comfortable attending whatever activity piques their interest or fits their schedules. Just follow the directions on our monthly calendar to learn how to attend an event. Or contact us!
4. How do we find out more about what Youth Apostolate is doing? Adults are invited to receive a weekly email update with detailed information. Everyone can check the Youth Apostolate page on the parish website or the bulletin. Call Erin at (703)-773-2005 or email her at youthapostolate@stveronica.net. 
Adult Volunteers Sought: Looking for a wonderful way to follow Christ, share your talents, and make a lasting impact? Perhaps the Holy Spirit is nudging you to consider volunteering with our Youth Apostolate! We would like to invite you to get to know us better and in turn challenge you to put your gifts at the service of the young Church. If the prospect of engaging in the battle for souls through sharing in a common mission with a team of passionate and faithful adults and youth piques your interest, contact us today! No prior experience or special talents or education required. We provide ministry training and support for all of our adult youth ministers! Email youthapostolate@stveronica.net or call (703)-773-2005.
(Training includes but is not limited to all diocesan background checks and  safe environment compliance requirements for adults who mentor young people.)    
PICTURES: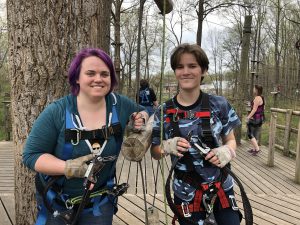 Sandy Springs Ropes Course with Youth Orchestra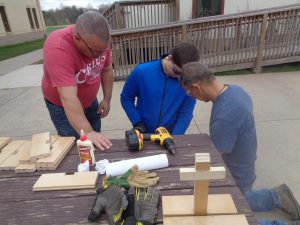 High School Work Camp Tool Training Day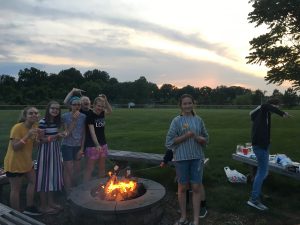 IGNITE Bonfire Night 

Living Stations of the Cross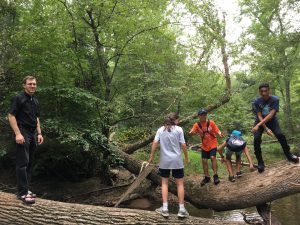 Hiking Trip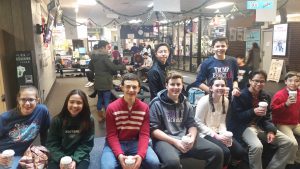 Ice Skating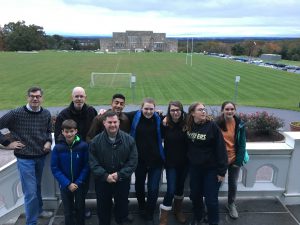 Saints Alive!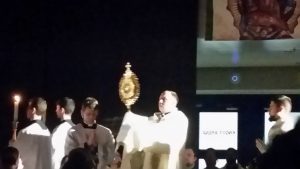 Mount 2000 Retreat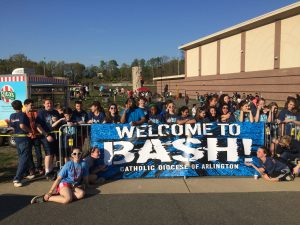 BASH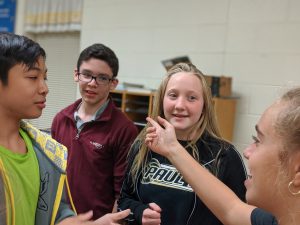 Board Game Night